Make a real impact on your wedding day, or at any special occasion, by hiring your own Scottish piper.
I am an experienced piper and for many decades have played in Pipe Bands, where I have travelled throughout the UK, Europe, the United Arab Emirates and the USA. I have had the privilege of piping many times for members of the royal family and for the Scotland rugby team. I have extensive experience as a solo piper, playing at weddings, Burn's suppers (where I can also perform the "Address to a Haggis"), funerals, numerous corporate events and piping for Highland Dancers. I am also currently Pipe Sergeant of the Alloa Bowmar Pipe Band and have led the band on several trips abroad, most recently piping for the Ruler of Ajman, near Dubai.
​
Based in Falkirk, I am happy to travel anywhere in Central Scotland (or further afield for reasonable travelling expenses) and offer a comprehensive consultation process prior to all bookings to ensure I offer my clients exactly what they are looking for.
I always dress smartly in either a traditional
Prince Charlie outfit
, with Modern Mackenzie tartan, or full number one dress with feather bonnet (as pictured at bottom of this page) for weddings, Burn's suppers and corporate events, or an Argyle jacket and waistcoat for day wear or funerals.
Elsewhere on this site - see the Media Page - there are links to studio and on-site recordings (so you can see and hear for yourself exactly what you are getting!); an interview with myself and a mini on-line consultation to get you started with considering what tunes you might like for a wedding booking.
---
My Zante Adventure in summer 2013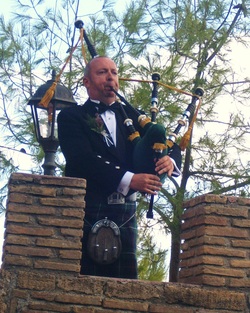 From May to October 2013 I was based on the Greek Island of Zakynthos (Zante) and played at several weddings and other occasions throughout the summer season.

This was a fantastic adventure for myself and I thank all the brides and grooms who put their trust in me to provide the music for their big day (the photo on the left was taken at the marriage of Laura and Stevie at the Cave Bar in Kalamaki), as well as the other venues and individuals who hired me to play at various parties and celebrations.

I am now back in Scotland and am available for bookings for all occasions.

To enquire about my availability either get in touch with me by email via the Contact Page or call my mobile on 07933 272827. I look forward to hearing from you.

---